Welcome to the Cadillac Square Dinner
Join us at the Cadillac Square Diner to enjoy homemade salads, soups and entire meals. From savory breakfasts of fresh eggs and your choice of hash browns, meats and garnishes to quick-but-full-flavored lunches of coneys, gyros, subs, sandwiches, salads and more. Now open evenings until 8pm, come to the Cadillac Square Diner for everything else, including seafood, chicken, ham, chili, steaks and chops, even stir-fry!
We are open on Monday to Friday from 6am to 8pm, Saturdays from 7am to 3pm and are closed on Sundays.
We are located in the Cadillac Square Apartments building at 111 Cadillac Square which is located between Randolph & Bates.
We are just two blocks away from Greektown Casino. Convenient easy-off freeway access: take I-75 South to I-375 to Lafayette Avenue.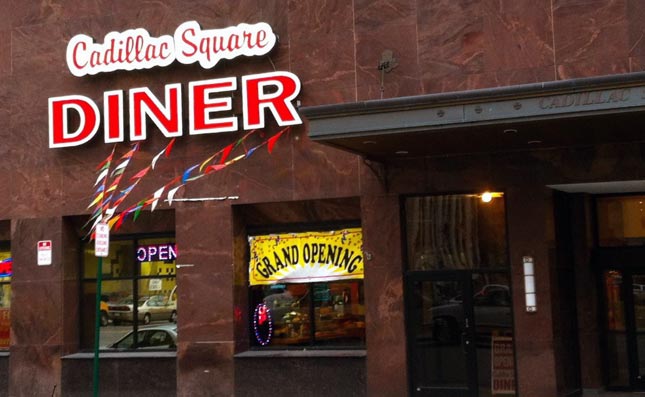 Our Menu
We offer a full service dine-in and carry-out service. Click to view and download a copy of our menu.